Filter by Category
Cooking & Nutrition
Cooking with Essential Oils
with Chris Ventura

Nov 2, 2017 at 6 pm
Can you cook with essential oils-absolutely YES! Come learn how to incorporate these wonderful Doterra oils to make power bites, wild orange cranberry scones and lavender shortbread cookies.
*$15 lab fee paid directly to instructor at start of class*
Greek Cooking Night
with Nicholas Orgo

Dec 5, 2017 at 5:30 pm
A hands-on and lecture class where you will learn to make Greek chicken, spanakopita (spinach pie) and of course baklava for dessert.
* $20 lab fee paid directly to instructor at start of class*
Course will run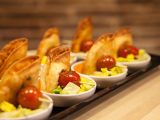 Spanish Cooking Night
with Nicholas Orgo

Nov 7, 2017 at 5:30 pm
Join this trip for the kitchen stool traveler! A hands on and lecture class where you will learn to make spicy herbed marinated olives, lamb meatballs, shrimp with chorizo and Patatas Bravas (potatoes)
* lab fee of $24 paid to instructor at start of class*