Filter by Category
Health & Wellness
Spirit Animal Workshop
with Donna Shaw

Feb 26, 2019 at 6 pm
The Native Americans, Celtic Shamans and others work with Spirit animals to find healing cures etc. They believe we all have Animals that help guide, teach, and walk with us throughout our lives. In this class you will learn about them and be guided by Donna Shaw, C.H on a hypo-meditation journey to connect with yours. Donna's teachings of Spirit Animals are based on the Medicine Wheel teachings, the 7 sacred directions, her own encounters with her guides, Ancestors & The Wheel itself. Children who will sit through meditation are welcome.
* Lab fee $20 or $30 for 2 payable directly to instructor at start of class*
Will run
Spring Cleaning with Essential Oils
with Chris Ventura

Apr 24, 2019 at 6 pm
Come learn how essential oils can help you remove your toxic load in your house. You will be sampling many different essential oils so that you can experience first hand the amazing benefits of these powerful oils.
*Lab fee of $15 payable to instructor at start of class*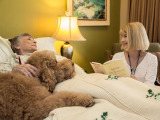 Volunteer Hospice Training
with Kathy Baillargeon

Jan 31, 2019 at 1 pm

, runs for 3 weeks
Do you want to make a difference in the lives of hospice patients facing the end-of-life, and their families? Androscoggin Home Healthcare and Hospice, a non-profit organization, is looking for hospice volunteers to join the hospice team, providing companionship to patients and respite for family members. In the training you will learn about the history and philosophy of hospice, family dynamics, spirituality, communication, the adult disease process and other end-of-life issues. The training includes both classroom time and online training. Volunteers are asked to make a 1-year commitment 2-4 hours per week. You can make a difference. Start today!