Filter by Category
General Enrichment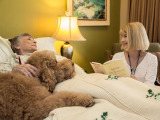 Volunteer Hospice Training
with Kathy Baillargeon

Jan 31, 2019 at 1 pm

, runs for 3 weeks
Do you want to make a difference in the lives of hospice patients facing the end-of-life, and their families? Androscoggin Home Healthcare and Hospice, a non-profit organization, is looking for hospice volunteers to join the hospice team, providing companionship to patients and respite for family members. In the training you will learn about the history and philosophy of hospice, family dynamics, spirituality, communication, the adult disease process and other end-of-life issues. The training includes both classroom time and online training. Volunteers are asked to make a 1-year commitment 2-4 hours per week. You can make a difference. Start today!
What Happens When The Paycheck Stops
with Jennifer Arsenault

Apr 24, 2019 at 6:30 pm
Learn about how to budget for retirement expenses, sources of retirement income and potential risks such as LTC and health care costs.