Filter by Category
Arts & Crafts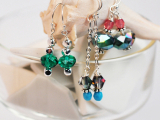 Basic Beaded Earrings
with Art Night Out Instructor

Nov 9, 2017 at 6 pm
, runs for 1 week
Love gorgeous beaded jewelry, but not sure how to make your own? Let us show you the basic tools and techniques needed to make attractive earrings in just minutes. Choose from our large selection of high quality materials; silver ear wires and head pins, faceted Czech crystal in all colors and sizes, and seed beads in our own color way mixes. Learn basic wire wrapping techniques as well as advanced techniques such as working with chain and clusters. Workshop fee includes all materials needed to make two pairs of earrings.
Chakras Workshop and Meditation
with Donna Shaw

Nov 16, 2017 at 6 pm
In this class, you will learn about the chakra (body energy) system and how it affects your mind, body, & spirit. Each of the seven major chakras (energy centers) will be described, including location, color, emotional correspondence, and impact on you as a whole being. Learn how to "ground" and ways to open and balance each of your own chakras. You will also be guided on a meditation journey through the chakras to ground, open, balance and cleanse your energy system by a Reiki Master Teacher & Certified Hypnotherapist. For further reference, a user-friendly chakra information packet is included.
* lab fee of $15 paid directly to instructor at start of class*
Course will run
Cooking with Essential Oils
with Chris Ventura

Nov 2, 2017 at 6 pm
Can you cook with essential oils-absolutely YES! Come learn how to incorporate these wonderful Doterra oils to make power bites, wild orange cranberry scones and lavender shortbread cookies.
*$15 lab fee paid directly to instructor at start of class*